Grace & Truth Conference
Thursday, February 25, 2021 from 7:00 PM to 6:30 PM
February 25 - 27th
We hope you can join us for this life-changing conference with Daniel Amstutz, Christ Barhorst, Steve McIntosh, Tricia Gunn, Marcus Wick, and Ed Elliott. Daniel will be speaking and leading worship.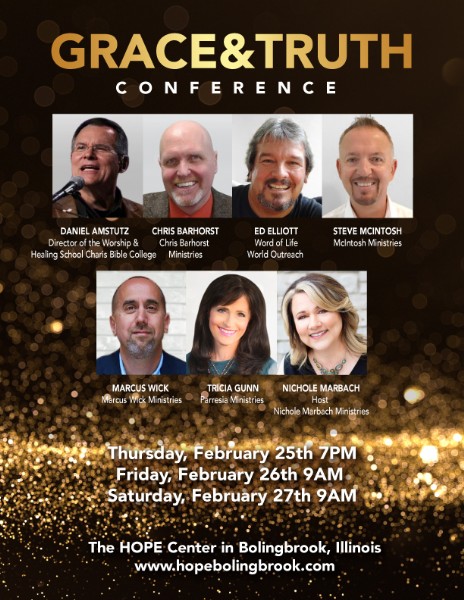 Speaker Bios
Daniel Amstutz - Director of Worship & Healing School Charis Bible College
Daniel Amstutz started the Healing School at Charis in 2011, with a powerful team of leaders, training literally thousands of students how to minister to the sick and has served as the director ever since.
Daniel is a seasoned ordained minister, and has served as a pastor, associate pastor and worship leader and loves to teach the Word of God and see people healed and set free. His sense of humor along with his relaxed style helps people receive this life changing message that God wants you to be in health!
Chris Barhorst - Chris Barhorst Ministries
Chris Barhorst is a called of God Bible teacher and pastor of true life Church in Greenville Ohio. He holds an Associate Degree in Biblical studies and a Bachelor's Degree of Ministry from Central Christian University of Blytheville, Arkansas.
Chris is a graduate of the Charis Bible College Continuing Education for Ministers program and serves as a Regional Advocate for ARMI (Association of Related Ministers International), Andrew Wommack's Minister's association.
Chris and his wife, Jennifer, live in Greenville, Ohio. They have four children and two grand-children.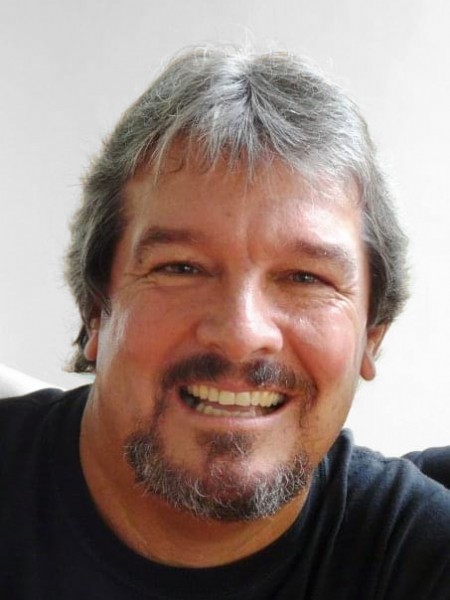 Ed Elliott - World of Life World Outreach
Ed Elliott is the founder of World of Life World Outreach, he has been involved with world missions for over thirty years; eighteen were spent living and working in Africa. During that time, they have had the privilege of seeing over three million people receive Jesus Christ as their Lord and Savior. Working with the local pastors, they were very instrumental in the planting of churches throughout Southern and Central Africa. They have helped train thousands of pastors and evangelists to do the work of the ministry through teaching and training conferences and seminars. Many of these conferences and seminars were held in remote areas where the ministers would not have otherwise had the opportunity for training.
For the past 20 years, WOLWO has been working with the underground church in Vietnam and Laos. Through these relationships, a trust has been established that has been very instrumental in opening opportunities to spread the gospel in those nations and other parts of Asia. They have pioneered, trained leaders and evangelized in countries that have been closed to the gospel. The pioneering teams they have trained have planted new churches and evangelize all over Vietnam and Laos.
One of the major focuses of Ed's ministry today is sharing with leaders and congregations about God's amazing love for them. These truths have helped believers evangelize more effectively and many pastors have seen incredible growth in their churches as people learn to walk in the reality of God's love for them.
Steve McIntosh - McIntosh Ministries
Steve and Holly McIntosh are Senior Pastors at Discovery Church International in Fishers, Indiana. Pastor Steve received a Bachelor of Arts degree in Pastoral Ministry from Southeastern University and Holly received a Bachelor of Science degree in Elementary Education from Indiana State University. Both Steve and Holly are graduates from Andrew Wommack's Charis Bible College and serve as Coordinators for CBC Indianapolis. Steve and Holly began full time pastoral ministry in 1988. For the past 30 years they have been actively involved in church planting, teaching, training, and leading short term missions teams. Pastor Steve and Holly teach the Bible focusing on God's unconditional love and grace, faith and the practical application of renewing your mind to God's Word.
Marcus Wick - Marcus Wick Ministries
Marcus E. Wick is an effective communicator of God's Word. He is widely known for his prophetic gifting and dynamic teaching style. He has helped many people to understand, as well as apply, the working of the gifts of the Spirit in their own lives.

Marcus, originally from Ohio, was born again and baptized in the Holy Spirit as a teenager. His desire to serve God in the ministry led him to attend a video bible college in Ohio from 1989-1991. Then in 2012, he was supernaturally drawn to Charis Bible College, Colorado, which was a major turning point in his life and his ministry. At Charis, he met Sharon Cogill, originally from South Africa, who would become his wife in March of 2014. She had been ministering to small groups and women in Africa and the Middle East for more than ten years before she felt the same drawing to attend Charis Bible College in Colorado.

As graduates of Charis' Third Year School of Ministry, the couple launched Marcus Wick Ministries in October 2017. Recognized in Charis circles as being called to the office of a prophet, Marcus travels and teaches at various Charis campus locations, as well as in churches in the US and abroad, such as in South Africa, Mexico, Uganda, and Ethiopia. Marcus is a mentor to younger pastors and serves on the board of directors for Revive Church in Vermont. Marcus and Sharon love people and want to see the five-fold ministry operate in unity in the church for the edifying of Body of Christ in love.
Tricia Gunn - Parresia Ministries
Tricia Gunn is the Founder of Parresia, host of A Real View, and the author of the highly acclaimed book, Unveiling Jesus, which lays a verse by verse foundation of the amazing grace of Jesus, along with the accompanying 20-part teaching series. Involved in ministry for over two decades, Tricia Gunn has always had a passion to see God's beloved children healed and delivered — physically, emotionally, and spiritually.
Tricia has had the distinct honor to minister the Gospel of amazing grace on platforms with leaders such as Andrew Wommack, Creflo Dollar, Clark Whitten, Connie Witter, and Rob Rufus. Rob says of her book, Unveiling Jesus, "It's the best book to read on grace. Unveiling Jesus is a grace classic." Clark Whitten says, "I believe Tricia Gunn will soon become one of the most listened to women in the Body of Christ. What she has to say is utterly transformational." In addition to being an author, Tricia is a Bible study teacher, conference speaker, and talk show host. Tricia has lead dozens of conferences and has touched countless lives through her teachings and writings on amazing grace and our identity in Christ. For more on all of her teachings, go to the "messages" link in the menu bar.
Tricia hosts the TV talk show, called "A Real View of the Grace Life" on GospelTruth.TV where women discuss how the amazing grace of Jesus has radically changed their lives. She is also excited about launching a new video series and book on our freedom in Christ called "I Am Free Because of Jesus." She will also be developing a project for millennials entitled "I Am" which will focus on our identity in Christ.
Tricia is supported locally in Birmingham through her partnership with Life of Faith Church and is an ordained minister through Grace Church in Orlando, FL. She is the wife of Mark and the mother of 5 wonderful children. Tricia and her family reside in Birmingham, Alabama.
Nichole Marbach - Nichole Marbach Ministries
Nichole Marbach resides in Illinois with her husband, youngest son, and three shelties. She is a graduate of Charis Bible College Chicago and a Certified Joy Restoration Coach© through the Professional Christian Coaching and Counseling Academy, an author, speaker, teacher who feels called to spread the extreme love and grace of God through the finished work of Jesus Christ around the world.
Nichole's powerful testimony of overcoming bipolar disorder, PTSD, suicide attempts, panic attacks, alcoholism, self-injury, and other addictions, has given her a passion to minister to hurting people. She loves to teach people that Jesus paid the price for their healing and encourage them to never give up hope on the promises of God which are "Yes and Amen!" in Christ.
Nichole has ministered throughout the U.S. and internationally as a conference speaker and teacher. She has also ministered at recovery groups, prisons, business settings, churches, and more. Nichole has appeared on several Christian television and radio programs. Her miraculous "Healing Journey" has aired on Andrew Wommack's The Gospel Truth TV program and is currently a healing testimony on his website, giving hope to many people around the world.
Event Location
The HOPE Center • 530 E. Boughton Road • Bolingbrook, IL 60440 • US